Towing with a van could:
 
Mean you need different driving licence categories.
Require use of EU drivers' hours rules and tachographs (although there may be exemptions you can use).
Overload the towing vehicle beyond its legal and / or physical capabilities.

Vans with a Gross Vehicle Weight (GVW) of up to 3500kg can tow trailers up to 7 metres long and 2.55 metres wide.  
Trailers with a GVW of 751kg or more are required to be fitted with independent brakes.
No part of the load in the trailer should overhang by more than 3.05 metres, not exceeding a width of 2.9 metres and it all must be secure.
 
Any trailer used must be subject to the same pre-use checks as the towing vehicle.
 
Trailers and couplings can differ, so always follow the manufacturer's instructions.
Make sure you know how to hitch the trailer correctly and connect the emergency brake cable.


Evenly distribute the weight of the load in the trailer.
Make sure any load in your trailer is properly secured.
The trailer being towed must display the same number plate as the van.
Ensure the nose weight of the trailer is within the manufacturers recommendations of the towing vehicle.
If the trailer starts to swerve, slow down gently.
There is a towing speed limit of 60mph on motorways and 50mph on single carriageway roads.
If the trailer is wider than the van, then towing mirrors will need to be fitted.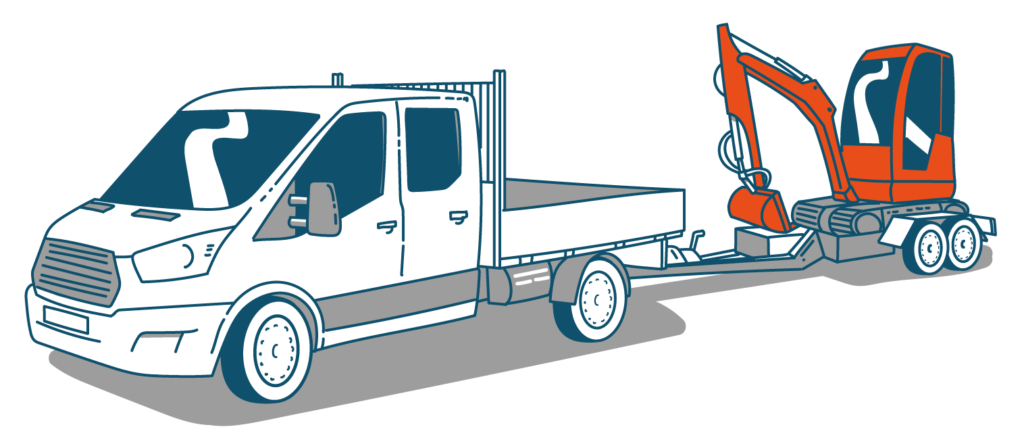 The chassis plate or sticker fixed by the manufacturer specifying the maximum weights allowed is often found on a front door sill. The weight and size of trailer that you can tow depends on at least 5 key factors:
Driving licence categories.
The capability of the towing trailer.
The weight capacity of the trailer.
The brakes on the trailer.
Gross weight of towing vehicle and size of trailer.
This information sheet is free for employers to download and distribute to their drivers.
It may not be amended in any way | Copyright 2021 National Highways.